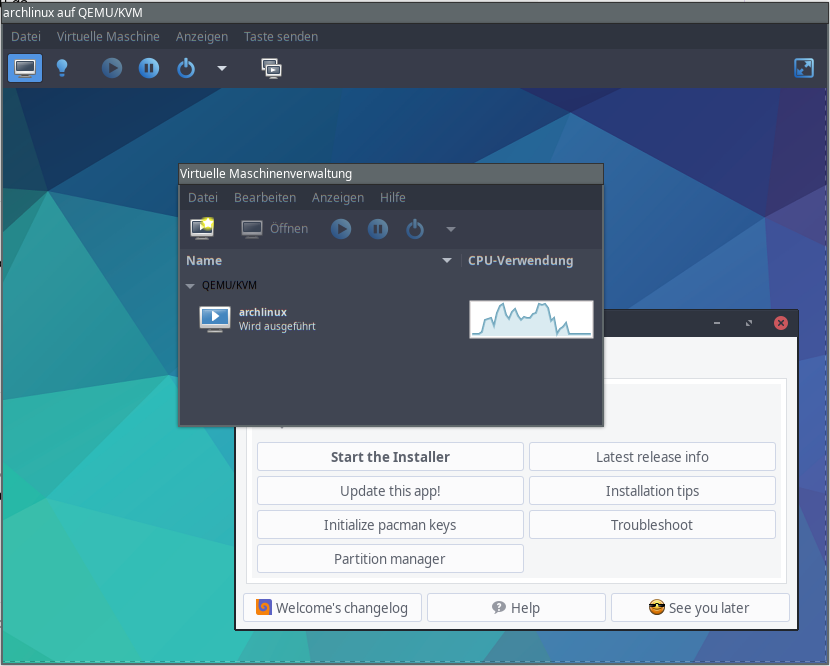 About virt-manager tools
virt-install is a command line tool which provides an easy way to provision operating systems into virtual machines.
virt-viewer is a lightweight UI interface for interacting with the graphical display of virtualized guest OS. It can display VNC or SPICE, and uses libvirt to lookup the graphical connection details.
virt-clone is a command line tool for cloning existing inactive guests. It copies the disk images, and defines a config with new name, UUID and MAC address pointing to the copied disks.
virt-xml is a command line tool for easily editing libvirt domain XML using virt-install's command line options.
virt-convert is a command line tool for converting OVF and VMX VM configurations to run with libvirt.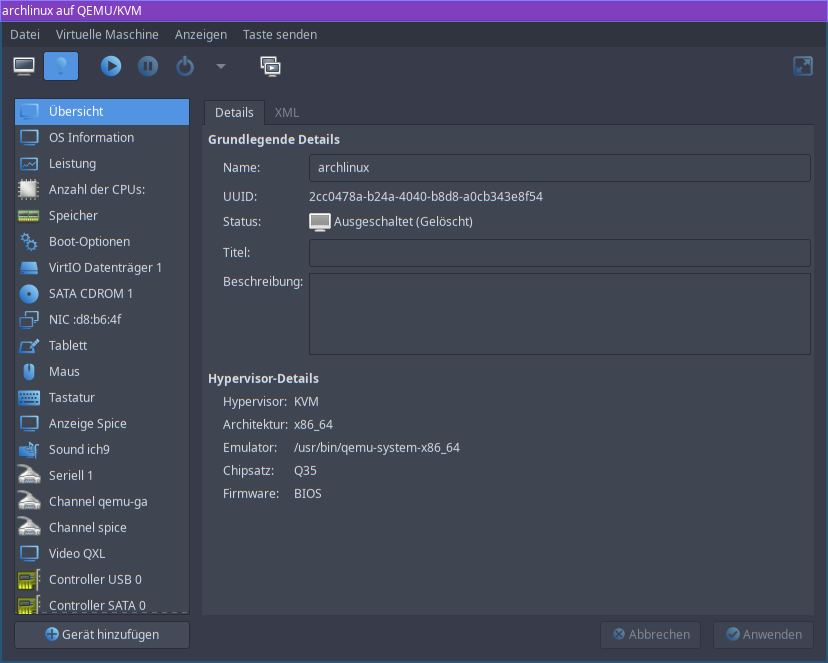 Installation:
 sudo pacman -S virt-manager libvirt qemu
for advanced settings with qemu:
Start and enable needed systemd service:
sudo systemctl enable --now libvirtd.service
Now you will be able to start virt-install and setup your virtual system.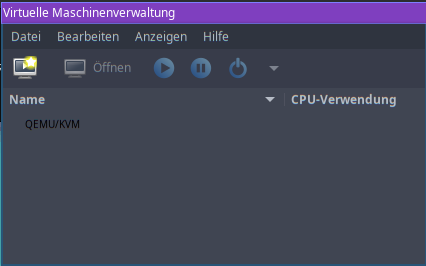 At the momend (October 2017) there is a BUG related to virt-manager and libvirt configuration that causes to do not complete installation of ne VM:
It gives a message like this:
Traceback (most recent call last):
  File "/usr/share/virt-manager/virtManager/asyncjob.py", line 89, in cb_wrapper
    callback(asyncjob, *args, **kwargs)
  File "/usr/share/virt-manager/virtManager/create.py", line 1855, in do_install
    guest.start_install(meter=meter)
  File "/usr/share/virt-manager/virtinst/guest.py", line 405, in start_install
    noboot)
  File "/usr/share/virt-manager/virtinst/guest.py", line 469, in _create_guest
    dom = self.conn.createLinux(start_xml or final_xml, 0)
  File "/usr/lib/python2.7/site-packages/libvirt.py", line 3497, in createLinux
    if ret is None:raise libvirtError('virDomainCreateLinux() failed', conn=self)
libvirtError: internal error: process exited while connecting to monitor: Could not access KVM kernel module: Permission denied
failed to initialize KVM: Permission denied

A workground for avoid this error, you need edit the file /etc/libvirt/qemu.conf and change the line:
group = "78"
to
 group = "kvm"
restart the service and you will be fine: 
sudo systemctl restart libvirtd.service